24 May

SPORTS MEDIA MAX – ARMENIA

SPORTS MEDIA MAX – ARMENIA
INTERVIEWED BY NARINE DANEGHYAN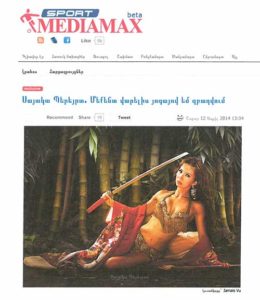 -Martial arts, weapons, dance, fire, sports- how it is possible to be professional in all these difficult spheres? (Can you tell us how, when and why you were involved in all these activities)?
How? Because I LOVE what I do!!! And there is absolutely no limit as there is always some room to improve our skills, techniques, mental awareness, physical strength & flexibility!!! So I just kept training and training throughout my life
I started taking a dance class (modern dance) when I was 4 years old as my mother wanted me to have a good posture. When I was 7 years old, I was almost kidnapped. Luckily I was able to run away – I bit them, screamed so loud, and some powerful "grand battement" that I learned from my dance class (I didn't know how to kick at that time). However, this event made me realized that there was no superman – I needed to be strong mentally & physically to protect myself and my loved ones. Immediately after, I started to attend some martial arts classes – Karate & Judo with some Muay Thai influences (my first sensei had some Muay Thai background). When I first moved to the U.S., I was performing some dance & martial arts separately. I was enjoying people's reaction when they found out I was not just a dancer, but also a trained martial artist. One day I was booked with some fire dancers and they gave me their fire sword for me to try – since then I started mixing some martial arts in my dance performances!
-I have to ask, after this kind of work schedule do you ever have time for rest?  If yes, how do you use your free time?
To be honest, that has been really challenging!!! But we only have one body… I always try to listen to my body, make sure that I would not push myself too much that I would get injured. I do make sure that I sleep well & eat well!
-You continue surprising us by your knowledge of 6 languages. Why do you think it is important to know more of 2 languages?
It really helps me to think from different perspectives. It also helps me to understand different cultures and opens up my mind
-Sayaka, what do you dream about?
I am living in my dream doing what I love to do – dancing, martial arts, yoga, gymnastics, eating great food, spending time with good friends, cooking, being healthy, and flying (skydiving, helicopter, hang-gliding etc)! I do want to improve my financial situation of course, so that I don't have to worry about my basic needs (food, shelter, bills, etc) and I want to buy a nice house with Japanese style bathroom in Australia for my mother. We lost our house when I was 16, so it means a lot for my mother to have own house
-Any funny moments you can tell us from trainings? (with fire, swords, etc) ? 
I unconsciously train outside of gym, too. Dancing when I am shopping, stretching while I am waiting my turn in the supermarket, yoga while I am driving – my leg was stuck behind my head and the police stopped me and almost gave me a ticket … I choose my pants based on how high I can kick… I had to make sure that the ceiling in my apartment was high enough to practice my staff & spear before I moved in… I have to fight not to practice chokes every time I give people a big hug… And when I see some big guys, I dream about how good I would feel if I could throw the guy with perfect momentum & techniques (Seoi-nage especially)
-As I know you train in Hayastan MMA academy? Can you share your thoughts about Sensei Gokor Chivichian and Armenian fighters (Sevak, Karo, Manny), etc? 
They are absolutely amazing!!! I am SO happy & blessed to be trained by them!!! They are such hard workers, really humble, and great energy!!! And I like how they push me really hard and constantly give me such a positive energy. Since I am still new to MMA, I sometime get frustrated as I fix one thing and forget the other, or I do the technique right then forget to breath. But they believe in their students and everyone in that gym trains really hard. And I love that they always keep their sense of humor . The school is very well maintained, and they take pride in the cleanliness. The school also has the most amazing facilities – full gym, showers, even guest rooms for out of town students. Talk about dedication to support! If you are serious about training and growth in Martial Arts, I highly recommend this school.
-What do you know about Armenia?
Since I bellydance, I have been working with many Armenians. I always have really good experience with them – they are very honest, hard working, and value real friendship And I do love Armenian food!!! I would love to visit there and learn more about Armenia
-Sayaka, what is your nickname in ring and what's the story behind it?
I have not been fighting for recent years (just katas), but when I used to compete, it was "scorpion" as I was pretty flexible.
-What's the worst injury you've got in the ring?
My front tooth got cracked
-What's the worst injury that you've hurt somebody?
Elbow dislocation (it was an accident
– Do you think of yourself as an aggressive person?
Not at all, unless I absolutely have to be, then I can.
-What are the stereotypes people have of you as a female fighter?
If people see me only dance, they don't (or they don't want to) believe me. I consider myself a martial artist, not a fighter at this point in my life.
-Have you ever used your fighting know-how to defend yourself out of the ring?
Yes. There were many moments that I appreciated my own training.
-You were involved in many photo shoots for different magazines. What do you want to express with them?
That I live my life fully.
-Beauty tips for our female readers.
Eat well & sleep well… and be happy!!! Stress & jealousy are the worst enemy for our beauty. Life is too short to be negative or talk negative. When you feel down, put your hand on your heart, this is your life clock ticking, which will stop one day. Breath deep & close your eyes. When you open your eyes, you are ready to do what you love to do in your life (of course something positive!).
-Does the busy sports schedule affect your personal life?
And is the heart of beautiful Sayaka still free?  (If yes, please mention some qualities that your dream man should have). My life is pretty much all personal. The dream man will be the one that who understands and helps me fly or fly together so we can go higher & faster, not the one who will put me in the cage & lock the door.
-Sayaka, Congratulations! I would like to inform you that this week you are named Mediamax Sport's "Sport Beauty of the week"  It means that you will have more Armenian fans after the interview is published.  What would you like to wish them?
Hope everyone is doing what you LOVE to do in your life & be happy & healthy.
04/2014